Sr. Journalist Shri Abhigyaan Prakash Explained The Meaning Of Journalism
---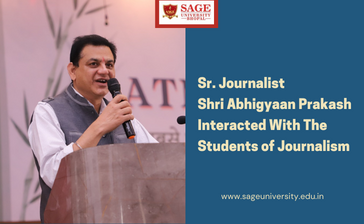 The students of SAGE University, Bhopal, had an invigorating session with Sr. Journalist Shri Abhigyaan Prakash as he interacted with them. The students posed questions on various aspects and issues while indulging in meaningful conversation. As a result, the students received satisfactory answers and gained from the eclectic discussion.
Abhigyan Prakash entered journalism in 1994 when he used to do reporting in English. However, he switched to Hindi in the year 2003 and has outshined since then. Currently, he is the Senior Executive Editor of ABP News. He has anchored some popular shows such as Jai Jawan, India Rocks, News Point, and Maha Mukabla, which have left immense responses in the minds of their viewers. While some journalists stick to only one niche, Abhigyan sir has shown uniqueness in his field where he has effortlessly reported on politics, entertainment, sports, and industry.
Ishan Nangia, Mahak Chopra, Riya Pal, Suchitra Verma, Sunidhi Rajpoot, Nikita Meena, Aditi Rangeela, Abhay Samely, Shivani Dwivedi, Sunidhi Rajpoot Students from the School of Journalism and Media Communication, SAGE University Bhopal (SUB), participated in the discussion and grabbed journalism's actual meaning!