A Career in Pharmacy is Where you can Excel Exponentially
---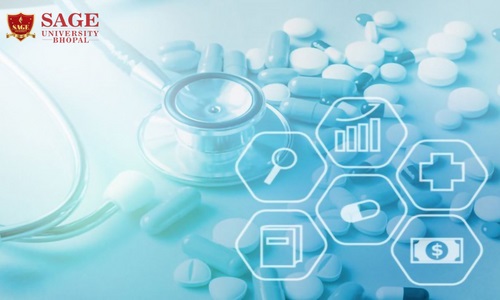 The pharmaceutical industry is one of the few that has had double-digit compound annual growth rates (CAGR) in recent years. To fulfil the ever-increasing need of the Indian pharmaceutical business, the All-India Council for Technical Education (AICTE) boosted diploma, undergraduate, and postgraduate admission seats in pharmacy colleges across the nation last year.
Course Structure and Eligibility
All class 12 science stream students who desire to work in the healthcare sector but do not want to be medical professionals can pursue a career in pharmacy. Pharmacy studies in India are industry-oriented, hence pharmacy graduates have a higher employment rate than graduates from other healthcare areas. Human anatomy and physiology, biochemistry, pharmaceutical chemistry, pharmaceutics, pharma engineering, pharmacology, pharma management, and other areas are covered in pharmacy courses. New-age subjects such as data sciences and nanotechnology are also covered in the pharmacy curriculum.
Opportunities for a career
Pharmacy graduates are involved in the research and development of novel treatments, as well as the quality control of their manufacture. Pharmaceutical graduates are in great demand in industries such as healthcare, research, manufacturing, medical marketing, pharmacovigilance, and so on. As a pharma graduate, you can work as a medicine inspector, medications controller, hospital pharmacist, and so on. Demand is growing for new-age employment roles such as big-data analysts, computational pharmacists, healthcare management scientists, life-cycle management scientists, and so on.
Pharmacy's Future
Pharmacists play a vital part in the overall management of healthcare. Candidates in the new-age pharmaceutical sector must be proficient in computational and managerial abilities in addition to fundamental technical knowledge. As scientists use more and more innovative technologies to detect potential health risks, the pharmaceutical industry is transitioning from a conventional to a highly technology-driven one.To be more specific, pharmacy is the science and method of preparing, studying, and distributing pharmaceuticals. Pharmacy as a profession teaches people how to produce medications and proposes amounts that patients should take in order to recover from disease or stay well. Pharmacy is a recession-proof job with high earning potential, fantastic benefits, flexibility, and room for advancement. Today, the scope of pharmacy covers worldwide healthcare, which has given birth to clinical research, pharmaceutical manufacturing, and marketing in order to improve or maintain a patient's quality of life and supply them with pharmacological information.
Sage University (SUB) offers a job-oriented, skill-based, up-to-date curriculum and holistic development of students in order to attain the summit of pharmaceutical education as a centre of excellence. Students will acquire pharmaceutical production, quality control, administration, and marketing skills, as well as pharmacy, in this course. At Sage University, students gain self-learning skills, problem-solving abilities, critical thinking abilities, and the capacity to obtain and assess information through research throughout the course of B. Pharma, M. Pharma, and D. Pharma. These professional coursesexhibitan understanding of medications and the sensible usage of herbal supplements. We have a Diploma in Pharmacy (D. Pharm.), Bachelor of Pharmacy (B. Pharm), Master of Pharmacy(M. Pharm.) (Pharmaceutics), Master of Pharmacy (M. Pharm.) (Pharmaceutical Chemistry), and Master of Pharmacy (M. Pharm.) (Pharmacology). Graduates, postgraduates, and professional diploma holders can begin working as a pharmacist after finishing the course. The programme prepares students for a variety of professions in the pharmaceutical business. Graduates with knowledge of medicine and biology may perform tasks such as prescribing appropriate medication to patients. The goal of our pharmaceutical courses is to create professionals who show mastery of fundamental skills and processes in drug manufacturing, drug design development, and pharmaceutical quality assurance.