Lights, Camera, & Action In City Of Lakes
---
Remember the famous dialogue from Sholay, "Mera Naam Bhi soorma Bhopali hai?" Without a doubt, the role performed by famed comedian Jagdeep fully deserves someone's affiliation with Bhopal. It was in the 1970s, and there has been no looking back for the city, which has since emerged as the most popular film shoot venue in Central India. It would not be incorrect to state that Bhopal is under the spell of Bollywood. Many films were filmed in and around this city. What distinguishes this city is its personality. This region of Madhya Pradesh has everything from modern-day destinations to historical sites. The city is stunning and offers a fantastic backdrop for filming. The three most commonly used words in Bhopal are "Light...Camera...Action." Upper lake, Old Vidhan Sabha, VIP Road, and other locations are recognized for their gorgeous setting and admiring appeal. Pack your bags and explore the city to uncover the most notable filming spots in Bhopal, the City of Lakes.
60 CRORE YEARLY BUSINESS BY SHOOTING IN THE CITY OF LAKES
Bhopal's three ladder ponds are on par with anybody. This is very stunning. The site status is ideal for filming. If its attractiveness is increased, a new location for filming will be discovered. If this occurs, know that films will be filmed continually here. In any case, the surrounding scenery is magnificent. There are undoubtedly dozens more Natural landscape places in Bhopal. Over the previous 70 years, more than 250 films have been shot here. Over the course of a decade, more than 50 tele serials and over 30 web series films have been produced. Top musicians have visited Bhopal. Famous filmmakers have filmed here.
250 FILMS SHOT OVER THE COURSE OF 70 YEARS IN BHOPAL
This indicates that Bhopal has surpassed Mumbai as the city of choice for filmmakers. One reason for this is that the filmmakers must also have assistance and subsidies. In Bhopal, shooting equipment and technicians are now readily available. Because of the development of theatre in Bhopal, there is no artist shortage. Many of the local artists have found work in movies. It is now common knowledge that filming is taking place in the city. This is critical for our city of Bhopal. When celebrities from the film industry laud Bhopal, Dil Bagh becomes Bagh.
The Big B's blog referenced Bhopal.
During the break in the filming schedule, Amitabh Bachchan did not return to Mumbai. They remained in Bhopal. Despite the presence of his in-laws, Bachchan enjoyed his time in Bhopal. This was also highlighted on his blog.
Rajesh Khanna was fond of Bhopali Paan
Rajesh Khanna arrived in Bhopal 24 years ago, bringing with him the thunder of elections. He enjoyed the paan. Shakeela Bano Bhopali served him paan. He was so taken with the paan that he fashioned five-six beads with his own hands.
"Bhopal is absolutely gorgeous," Priyanka said.
Priyanka Chopra had arrived in Bhopal for the filming of Gangaajal 2. She described Bhopal as "lovely." Also, this has been the location of choice for her.
Shashi Kapoor lauded 'City of Lakes.'
Ismail Merchant, a Hollywood film director, directed the film Custody in Bhopal in 1993. Film stars Shashi Kapoor, Shabani Azmi, and Ompuri enjoyed Bhopal Ki Biryani and Shami Kabab while filming.
VENUE FOR 30 WEB SERIES AND 50 SERIALS IN THE LAST DECADE
Jaid Ali, Line Producer of Bhopal, stated that in recent years, Bhopal and MP have become popular filming locations for filmmakers. Prakash Jha, a filmmaker, revealed the locales of Bhopal in the 2009 film Rajneeti. Following that, Rajkumar Hirani, Tigmanshu Dhulia, Anurag Basu, Mani Ratnam, S. Films directed by Shankar, Anil Sharma, Neeraj Pandey, and Karan Johar have been shot here. Continuous filming is taking place around the city, from Iqbal Maidan, Gauhar Mahal, VIP Road, and Minto Hall to the Old Jail and other areas. In terms of the film industry, Bhopal sees just approximately 60 crores in revenue every year. In Bhopal, almost 2000 crew members are employed. Around 6000 junior artists are also employed.
GIRGIT & MR. SAXENA MOVIE PRODUCTION AND SHOOTING AT SAGE UNIVERSITY BHOPAL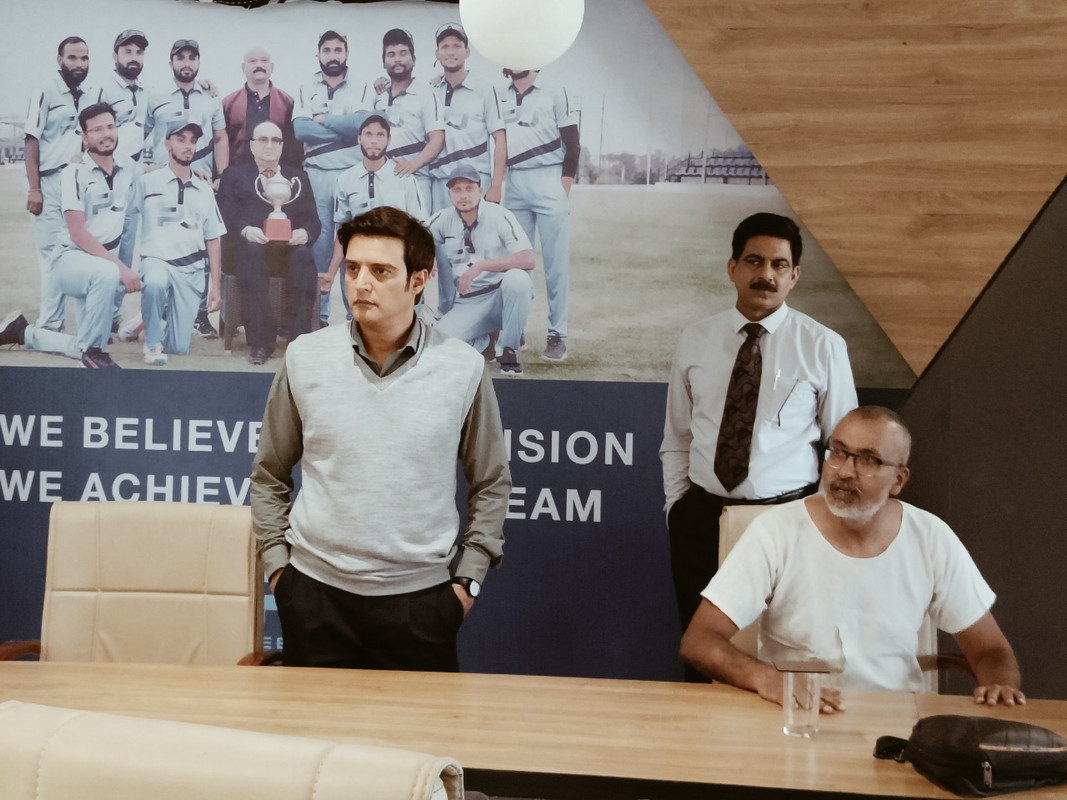 SAGE University is one of the leading universities in the country based on infrastructure. Classrooms, state-of-the-art architecture, new age equipment, and educational framework are essential factors in a sound learning environment. Such facilities accentuate the contours of skill training and development of students in their professional domains. The testament to the best-in-class practical training can be acknowledged with the fact that SAGE University is the first choice and leading destination for 'Movie/Film Shootings'. Recently, the university facilitated the production of the film, 'Girgit' coordinated by the School of Performing Arts. The film starred Adah Sharma, Himanshu Malhotra, Shreyash Talpade, and various versatile actors in the supporting roles. This mainstream movie has been directed by the emeritus director of the Hindi Film industry, Mr. Vishal Pandya. A three-day shoot was full of enthusiasm and knowledge sharing.
Another movie that was shot at the campus of the SAGE University was 'Mr. Saxena'. The film starred renowned actors Jimmy Shergill, Shruti Seth, Yogendra Tikku, and Anurag Arora as leads with the various eminent supporting casts. The shooting of the movie provided the necessary credibility to the university's ethos of inclusive learning. Yogendra Tikku in his testimonial said that the hospitality of the university staff mesmerized him and he was thankful for such a warm welcome and excellent facilities. Stars like Jimmy Shergill and Shruti Seth appreciated the location and line production process that facilitated the entire shooting with ease. They acknowledged the professionalism of helping and management staff for bringing out the best efforts to make the production of the movie, Mr. Saxena in Bhopal successful.
The students interacted with the celebrities and the production team providing them exposure to experiential learning. This opportunity to learn things from industry professionals has been a part of SAGE University's framework thus enabling students of Performing Arts to excel in their craft and creative fields. In our curriculum, we are committed to providing the lectures of industry professionals so that students can pave their way into the industry by polishing their skills under the guidance of entertainment veterans. One such workshop or celebrity interaction was organized under the gracious presence of eccentric actor Mr. Rajiv Verma. He provided insights into the art of filmmaking and acting. Such sessions not only addressed the importance of practical-based learning but also improvised the student's perception to be more involved in the subjects they are pursuing. Our infrastructure is designed keeping in mind the academic and professional needs of students who are going to be tomorrow's creative pioneers.