Most Fertile Learning Land for Excellent Agricultural Education
---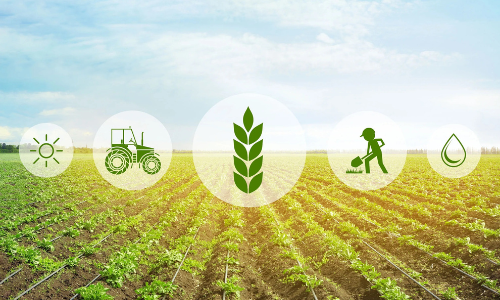 A growing number of students are interested in getting a degree in agriculture because it is one of the most important areas of the Indian economy. After completing the important Agriculture courses, you can investigate attractive options in the business and governmental sectors. However, many students have concerns about the kind of jobs they can get after earning a bachelor's in agriculture. Here is a blog that tries to highlight the numerous opportunities accessible after obtaining a bachelor's degree in agriculture for others who are confused by similar problems.
The method and science of producing and growing a range of plants and flowers, fungi, animals, and other useful things to meet a variety of human requirements are referred to as agriculture. Agronomy, Horticulture and Floriculture, Agricultural Economics & Farm Management, Forestry, Agriculture Genetics, Agriculture Entomology, Agriculture Microbiology, Agro-Chemistry, Hydroponics, Genetic Plant Breeding, Animal Husbandry, Agriculture and Food Business, Fisheries, Plant Physiology, Plant Biotechnology, Seed Science & Technology, Soil Science, Plant Pathology, and Sericulture are the general divisions of the broad and diverse field of agricultural science. The vast area of agriculture and agro-based businesses provides a wide variety of career alternatives in the public and private sectors, as well as prospects for self-employment.
Since agriculture is considered the foundation of our nation, obtaining this degree will give you invaluable chances and a range of alternatives to conduct research and make use of cutting-edge technology to promote harmonious growth and enhance agricultural productivity. Graduates of the Bachelor of Science in Agriculture program can find employment in several public, private, and academic organizations, as well as in agricultural enterprises and research facilities. Courses in agriculture provide cutting-edge instruction and essential training in the large field of agriculture and other relevant subjects. In addition to improving the overall quality of agricultural products and production, multidisciplinary agricultural science educates students and professionals on how to apply scientific and technological principles to improve agricultural efficiency and productivity.
The qualifying exam results or the results of a qualifying examination given by a particular college or institute that awards the degree are used to determine admission to B.Sc. Agriculture programs. The application procedure, course details, and the number of open seats are listed on the institute's official website. The application forms are available in the college office or online at the relevant page. SAGE University of Bhopal (SUB), a prominent and expanding university, has long been regarded as one of the top institutions for excellent and productive agricultural education. SAGE University Bhopal (SUB) promises to give qualified students a warm environment as well as attractive scholarship chances.
The Agriculture Department of SAGE University offers you:
1. In our comprehensive curriculum, we train students with modern scientific farming methods.
2. A research-centric holistic framework for training students in agricultural technology.
3. 2 Acre Polyhouse is committed to studying current farming practices and agricultural science.
4. 30 acres of dedicated land to support organic farming and field trials for new agricultural methods.
Basic Sciences and Humanities, Crop production (Agronomy), Crop improvement (Plant breeding), Plant biotechnology, Plant protection, Natural Resource Management, Social Sciences (Agriculture Economics and Extension and Outreach), Agricultural Engineering, and other inter-discipline courses are among the branches. The B.Sc agriculture honours course at SUB aims to increase agricultural productivity by merging principles from biology, technology, and agriculture science. Students pursuing a BSc agriculture honours degree are taught current scientific approaches to agricultural activities. The contemporary study of agriculture entails applying scientific methodologies to traditional agricultural activities. SUB is an ICAR-accredited private university that strives to educate and teach students in scientific ways to improve agricultural output in a sustainable manner.