Social Media and Mental Health
---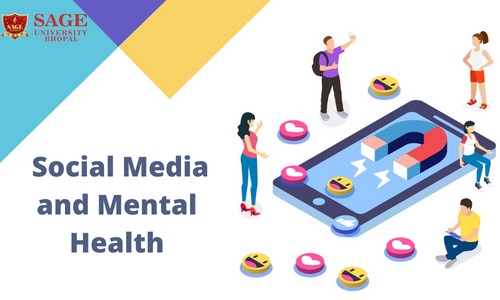 Mental health is "a state of well-being in which every person understand his or her own capability so that he can cope with the normal problems of life, can work with high potential and provide fruitful output so that he can contribute to his society as well as a nation."
Mental health involves our emotional and social well-being. It shows its impact on our thoughts, feelings, and actions. It also helps us to handle the stress of life. It is important at every stage of life, starting from one's childhood and young age through adulthood. It is a state that enables people to cope with the stresses of life and realize their abilities for betterment.
While social media has provided us with a lot of information than ever before, there are both positive and negative implications of our use of this technology. Some of the pros and cons of social media use, including the effects on our mental health are discussed here.
PROS OF SOCIAL MEDIA ON MENTAL HEALTH
Social media spreads awareness among people which is one of its most powerful benefits of it. It helps to raise awareness among mass people, so they can make up their minds and can understand present situations. By using social media people make a positive difference around the world.
As physical health and fitness help our body to stay strong, mental fitness helps us to achieve and to sustain a state of good mental health. When we are mentally healthy we enjoy our life and the surrounding environment and people in it. We can generate new things, and new ideas and learn to implement it in our life.
CONS OF SOCIAL MEDIA ON MENTAL HEALTH
The meaning of Negative mental health is psychological and health disorders due to negative impact on mental status. It badly affects our life causes unhappiness and decreased enjoyment of life. Poor mental health influences people's relationships with their spouse children and other family members causing family conflicts. It also generates problems of social isolation, and depression and disrupts social circle of individuals. It can lead person with bad habits such as Alcohol, tobacco chewing, and also to drug addiction. It generates legal problems, financial problems, poverty, and homelessness.
IMPROVEMENTS IN MENTAL HEALTH
For improving mental health one should connect with other people, By being in a good relationship our mind feels happy. Always try to be physically active, learn new skills, give to others, practice physical exercise, meditate daily, enjoy every moment of life, keep a gratitude journal, practice noticing your thoughts, and practice body awareness. By doing so we can feel better and it is good for mental wellbeing.
Dr. Deepti Khare
Associate professor
Applied Science