International Motivational Speaker Dr. Vivek Bindra interacts with students about their careers at Sage University Bhopal
---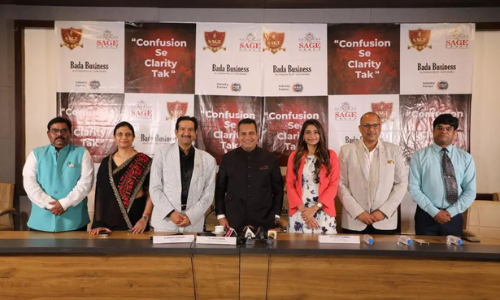 Renowned International Motivational Speaker and Founder of Bada Business Dr. Vivek Bindra addressed the students at Sage University Bhopal. In his one-day session under the theme "From Confusion to Clarity", Dr. Bindra specifically cleared the career misconceptions of the students and answered their queries. It is to be noted that the renowned Motivational Speaker and Business Coach, Dr. Bindra, through his organization Bada Business, trains people across the country in the field of Entrepreneurship and Management.
On this occasion, Er. Sanjeev Agarwal, Chairman, SAGE Group welcomed Dr. Bindra and appreciated his efforts in the field of establishing medium and small-scale industries through big business. Mr. Vivek Bindra's Bada Business, and SAGE University, Bhopal are collaborating on industrial training for students in Entrepreneurship Development and Employability Skills. Professional courses like Campus to Corporate integrated into the university's curriculum will make students business ready. Enroll now at Central India's top-ranked university for the new-age learning environment.
In his remarks, Agarwal, while discussing the objectives of the program, said that today there are many professional options in front of the students, but due to a lack of guidance and motivation at the right time, the students are often unable to choose the right option. Through Dr. Bindra's session, at SAGE University, Bhopal is trying to solve the career-related queries and problems of the students. About two thousand students of Bhopal took advantage of Dr. Bindra's session by pre-registration. It is worth mentioning that both The SAGE Group and Bada Business organizations have been helping the students to grow professionally for a long time so that they can face any career-related problems with full confidence in the future.
Dr. Bindra said that during the pandemic people made themselves tech savvy by adopting new technology. The time to come is the time of digital technology, so it is necessary that students or prospective businessmen upgrade themselves in technology. Technological knowledge is the key to success in the future. SAGE Group is leading the state in the field of education for the last two decades. The group has welcomed the innovative experiments in the field of education at various levels and made its own identity. So far about forty-nine thousand students from SAGE Group have been placed in various national and international institutions. About sixty thousand successful students are members of SAGE alumni.
SAGE University, Bhopal is the best emerging university in Central India for academic growth, smart classrooms, a state-of-the-art campus, and well-equipped laboratories. Our research-oriented learning environment enhances the skill training of students in their professional fields. We provide excellent education and courses in Engineering & Technology, Management, Pharmacy, Agriculture, Mass Communication, Journalism, Performing Arts, Design, Advanced Computing, Sciences, and Commerce & Humanities. The University got bestowed with Indira Gandhi Shiromani Award for excellence in education.
SAGE University Bhopal has started the admission process in the new session. Students who are seeking a great career in business-oriented streams, in Sciences, Agriculture, Management, Computer Applications, Advanced Computing, Engineering & Technology, Performing Arts, Arts, and Humanities, Journalism and Mass Communication, Nursing and Paramedical, Law and Legal Studies, and Design. Students can take admitted to any of these programs through SAGE Entrance Test and explore a rewarding career in these promising fields.