TEDx SAGE University: Youth Empowering The Future
---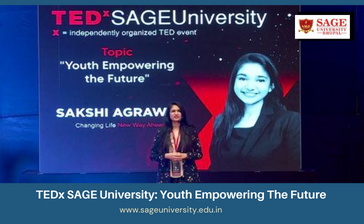 TEDx – A well-known name in the community of intellectuals. TEDx brings the spirit of TED to local communities around the globe through TEDx events. One such event was marked in the history of Sage University, Indore. On December 3, 2021, phenomenal speakers presented their ideas on changing Lives. This event was Coordinated by Sage Student Ambassador Council very efficaciously. Er. Sanjeev Agrawal, chancellor of Sage University, Indore, sent his wishes for the big day. The program was started with the gracious speech of Ms.Sakshi Agrawal, Executive Director, The Sage Group, who enlightened about Youth empowerment. She bought various issues related to youth into the light.
Changing life's new way ahead focuses on bringing together some great minds and influencers to engage with the audience in a wholly unique way to foster change in everyday life to make a better tomorrow.
In the spirit of ideas worth spreading, TEDx is a program of local, self-organized events that bring people together to share a TED-like experience. TED Talks video and live speakers incorporate to spark deep discussion and connection in a small group at a TEDx event. These local, self-organized events are branded TEDx, where x = independently organized TED event. The TED Conference provides general guidance for the TEDx program, but individual TEDx events are self-organized (subject to specific rules and regulations).
The next speaker was Ms. Sanjhal Kanoujia, who delivered a powerful talk on Yoga and meditation. Her motive behind this talk was to promote the idea of Heal -Manifest -Grow. The next speaker, Ms. Shruti Sharma, took the session ahead, who focused on cleanliness and Hygiene. She gave a beautiful slogan – Be the part of the solution, rather than being a part of pollution. Ms. Muskan Sharma-the, the last speaker of the session, talked about Agri-Business management. She gave a beautiful talk highlighting farmers' significant issue, drawbacks of the Indian Farming system, and solutions. The whole event was hosted by Ms. Tanya Pandey very professionally. The motive behind TEDx was fulfilled, and our speakers proficiently delivered their idea to the audience. Sage University, a sparkling name in education, is located beautifully on a hilltop near Rau bypass with a captivating view. Sage University is being accorded with innumerable awards, among which it is best known as a Top University of Central India.
Facebook Page: https://www.facebook.com/TEDxSageUniversity