Craftly Design Your Way to Success at Sage University
---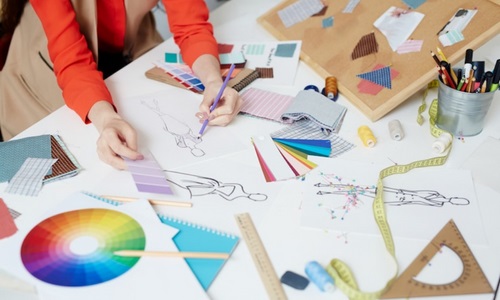 Designers acquire the ability to incorporate design elements into appropriate social, cultural, ethical, and environmental settings. The degree offers an integrated approach to design and is adaptive with a wide variety of skills that enable students to work across a wide range of design disciplines, rather than producing experts. Here, the value of labour-intensive design and production processes is emphasized to students. Our program seeks to develop creative leaders who can cooperate to build a sector-wide culture of innovation and design that is strategically viable. The Design program at SAGE University aims to provide educational leadership that will aid in defining the twenty-first century.
In order to promote innovation, and to build a bridge between the business, design, and related disciplines. The most recent technologies are provided to you by the SAGE School of Designing so that you may develop your inner designer and obtain the best possible practical grasp of the industry. The students are offered the guidance of business executives, field trips to manufacturing plants, and seminars where they can see change being implemented and incorporate it into their processes in their quest to become better designers. The institution that offers the top fashion design program in Bhopal is steadfastly dedicated to ensuring the total development of each of its students, and some additional advantages include cutting-edge labs, flexibility in the way lessons are taught, and the opportunity to be rewarded for one's accomplishments.
Design education involves promoting creative knowledge and skills in a variety of industries, including fashion, textiles, interior design, and product design. We genuinely believe in academic quality, but we also believe that one of our university's most essential roles is to prepare students for the skilled labor market. We want to produce well-rounded people who can reason, plan independently, express themselves creatively, and operate objectively. Our mission at the School of Design is to establish, maintain, and assist a premier institution. To make studying design more pleasant, we wish to apply successful integrative teaching strategies driven by creativity and curiosity. We encourage and support students in entering research early and teach them how to develop a range of abilities that will position them for success in a range of fields throughout the globe, including academics. A design degree program that is exceptionally affordable and educational for anyone who wants to become a well-known designer.
To open a store and meet customer needs, or to pursue a career as a fashion designer in various fashion studios and houses. A diploma in fashion design would be very beneficial for anyone searching for employment in the textile or fashion sectors. Other careers and opportunities have been developed to broaden the definition of what counts as work in fashion technology, including those in colleges and universities, boutiques, clothing store chains, several export-related businesses, fashion show organizers, jewellery businesses, textile mills, media businesses, leather businesses, retail managers, professional designers, stylist entrepreneurs, pattern makers, fashion choreographers, pattern cutters, and graders, as well as fashion merchandising. The School of Design is dedicated to providing outstanding scholarly work in important industries together with useful applications in India's textile and manufacturing sectors. All of our programs' core subjects are fair game for inquiry.
We provide a problem-solving approach and cutting-edge teaching strategies in every cutting-edge field of design. In our design schools, we provide graduate and undergraduate programs. In Madhya Pradesh, India, SAGE is an organization of academic and research-oriented universities and institutes. In the field of designing, academic institutions are focussing on a limited number of vital, carefully planned teaching and research activities. In the Diploma in Fashion Design program, students gain knowledge of the fashion industry and its creative processes. Students are encouraged to develop their own creative identities while receiving support as they consider the scope of their creative practices.
This course enables the students to learn about and put into practice the modifications and new trends in the fashion business. Through the course's distinctive and experimental methodology, students are trained to lead efficient creative practices that are trustworthy and responsible in their real-world application. The course has strong ties to the industry through real projects, outside competitions, and collaborations with experts in the field. Since many of our instructors come from related professions, the practice and teaching in the course adhere to the most contemporary norms and fashions. The large pool of instructors brings a lot of real-world experience to the classroom. Thanks to studio-based coaching, you focus on creating innovative and Trend-setter fashion creations.