International Youth Day 2021
---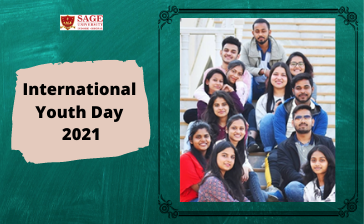 "YOUTH"- a period of transformation from the dependence of childhood to the independence of adulthood. That is why our youth are not just beneficiaries, but they are essential leaders and partners in finding solutions to the issues faced by young people in the world today. However, they must be fully involved in social development themselves and be supported in this work by their societies.
The aim of this day is to spread awareness around the world that there is a need to pay attention to the youths. Some of the critical areas of concern for today's youth-
• Education - youth demands better education, employment-driven training, and a brighter future. Moreover, skill-based education and job placement should be a part of every higher institution. More emphasis should be laid down on career-oriented courses, and there should be a connection with real-life scenarios rather than just bookish.
• Employment - At the global level, the chances of youth being unemployed is three times more than adults. Also, the global financial crisis hit youth first, then adults.
As this day (12th August) is dedicated to young women and men, let SAGE University as a team support the youths play in bringing change in tackling global issues and achieving sustainable development.
Dr. Kaveri Dutta
Head of Department
School of Design
Sage University Bhopal