SAGE 6Es for Youth: Transform Passion to Profession
---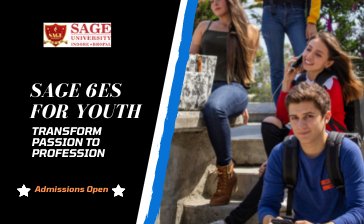 India is one of the leading countries in the education sector. Bhopal is showing rapid growth in various sectors for the last few years, and this city of the lake is becoming the favorite center for education and career. Students from University are technical savvy, and they focus on skills and careers. You may know some students aging just 14 to 17 years started their entrepreneurship, blogs, or YouTube Channel to earn fame and name. In addition, parents also support their children for better education and allow them to choose the courses of their interests. Well, we at Sage University respect parents' emotions and their decision to put trust in us. Therefore, preparing students for the industry with updated skills and knowledge is our priority. Infrastructure, labs, faculty, different programs, skill development training, expert lectures exploring our culture, and wonderful college life are what we are provide passionately.
Enabling
Enabling an education environment that works for endless opportunities. The education system, courses, and curriculum should be appropriately designed so that students can get the maximum benefits from the expert faculties. In addition, students should be able to get out of their comfort zones and learn and execute innovative ideas. Furthermore, the empowering environment enables students to learn from mistakes, make the right decisions, and practice their knowledge to solve problems in real lives and industries.
Empowering
Empowering students, by all means, is very crucial according to the current scenario. Having all the facilities for better education is good, but using them for the betterment of students is more critical. We aim to bring Empowerment by giving them access to the resources that can help them build confidence and work toward attaining growth and transformation. Different skill based programs are launched to empower youth in different verticals.
Emancipate
Freedom and liberty are what all people want, but it's hard to achieve. Well, students after 12th class can enjoy their lives by hanging out with friends, but it should be bound with the responsibility of shaping up the career. In addition, if the student gets an environment where they can balance their life, activities, and academics altogether with the alignment to a bright future and a promising career is the best freedom they would ever have in their lives.
Engage
Students' engagement in all academic and cultural activities increases their interest, and they will understand the concept very clearly. Well, engagement should be the key factor of the innovative pedagogy that empower students to implement their knowledge in real scenarios for solving problems. In addition, cultural programs and festival celebrations in college campuses retain the cultural values in aspirants' lives. Engagement in practical and training helps them to get better opportunities in the future.
Education
Education has the power to change the mindset, and hence it can change society and nation also. Education beyond classrooms and labs impacts increasing the interest in topics and helping them in-depth learning. Education includes the best practical and updated courses with practice, and industry training enables students to grab the in-demand knowledge and professional skill sets.
We at Sage University Bhopal, the best private University at Bhopal, provide all the Sage 6Es that transform our students' passions in to professions.