Emerging Technologies - Shaping the New Normal
---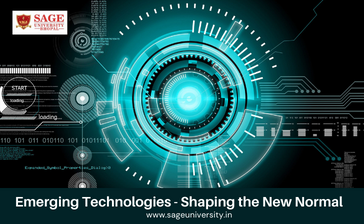 Although COVID-19 has hastened the adoption of new technologies and digital products, organizations worldwide have been focusing on emerging technologies such as AI/ML, cybersecurity, data science, etc., even before the pandemic. During this crisis, the pandemic necessitated remote work and digital and emerging technologies, which enabled increased productivity and business continuity.
AI/ML Uses Powerful Algorithms
AI/ML uses powerful algorithms to digest large amounts of data to identify patterns. They find applications in many sectors. On the one hand, they enable companies to anticipate customer demand and optimize their resources, and on the other hand, they help financial institutions safeguard against fraudulent transactions. With supply chains being disrupted due to the pandemic, it has become imperative for e-commerce companies to predict demand and focus on the most profitable and essential SKUs. With an increasing number of people shopping online, there is no shortage of data with e-commerce companies to predict consumer behavior and buying patterns. The data these transactions generate is a goldmine for AI/ML companies, enabling them to improve the algorithms that provide personalized recommendations. AI/ML can indeed emerge as the game-changer for e-commerce. Autonomous driving vehicles, drones, smart utility grids, large-scale retailing, drug research, and social marketing and advertising are some of the areas in which emerging technologies will find increased application in the next few years.
Opportunities In India
With cost becoming a key differentiator and flexibility becoming the new mantra, cloud-based solutions have gained popularity in recent years. Cloud-based applications ensure uninterrupted access to data and servers with maximum security. According to IDC's COVID-19 Impact on IT spending Survey, May 2020, due to the spread of the pandemic, 64% of the organizations in India are expected to increase demand for cloud computing while 56% for cloud software support the new normal. With this acceleration in cloud adoption in existing businesses, companies are facing a shortage of skilled cloud computing professionals. More than 26,000 open jobs for cloud professionals in India, such as cloud engineers, cloud architects, and cloud security experts.
The lockdowns that were enforced in several nations to control the pandemic spread increased our dependency on mobile devices and remote access to core business platforms and applications. While remote working became the saviour, it also raised concerns about privacy and cybersecurity. According to Campaign India, India ranks third in the top 10 most affected countries by cyber attacks. This increased reliance on digital platforms and services has left several businesses vulnerable to cyber threats and attacks. Companies require cyber security experts to keep their systems secure and monitor suspicious activities to ensure cyber security and business continuity.
According to a study by Analytics India Magazine (AIM) in partnership with Jigsaw Academy, cybersecurity constitutes 15.6% of the open job pool in emerging technologies. The cybersecurity domain offers a pool of skilled professionals such as security analysts, security engineers, security architects, security administrators, cryptographers, security consultants, etc.
Future Of Emerging Technologies
Many organizations are still trying to survive the crisis caused due to the pandemic. However, companies and organizations that have adopted digital initiatives and emerging technologies have shown us that the future is bright if we are ready for change and ahead of the learning curve. It is still early days, and the full impact of the pandemic on the global academic community and higher education is yet to be seen. And it is difficult to predict how long the global travel restrictions would last. What is not difficult to predict is the increased need for highly skilled and educated people to take up specialized roles in the new normal virtual world. It is time to secure your future with highly specialized courses that offer genuinely international exposure.
Dr Tasneem Bano Rehman
Associate Professor
SOAC, SAGE University Bhopal