Justice for All: What It Takes You To Pursue Law as a Career (BA LLB Course)
---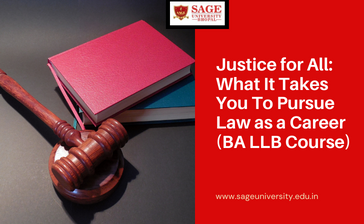 BA LLB (Bachelor of Arts - Bachelor of Legislative Law) is a five-year integrated LLB course that aspirants can pursue after finishing Class 12. The Law course is an amalgamation of the Humanities and law branches, allowing applicants to study subjects such as Sociology, Administrative Law, History, Family Law, Criminology, etc.
Most Law schools run a semester system in which the five-year duration course is divided into ten semesters. Thus, like at SAGE University Bhopal, you will get the best academic experience with extraordinary infrastructure and guidance from experts.
BA LLB Eligibility
Students who have achieved the minimum of 60 % grade in class 12 from any stream are eligible for BA LLB.
(Note: Each university or college has different eligibility criteria for different courses)
BA LLB Skills
Students intending to pursue a BA LLB should hold a skill set to perform well in the area and later have a flourishing career. Some skills that aspirants should have for the study are:
• Confidence
• Convincing skills
• Research skills
• Good judgment skills
• Verbal and written communication skills
• Presentation skills
• Integrity
• Ability to work for long hours
• Objectivity
• Time management skills
BA LLB Job Profiles
After completing BA LLB, aspirants can opt for many different and reputed career options.
Lawyer: A lawyer represents her/his clients in criminal or civil court proceedings and is responsible for initiating a lawsuit, attending meetings, documenting legal papers, and assessing the case.
Solicitor: A solicitor usually practices in one area of law such as property law, family law, or taxation, and provides legal advice to clients, including corporations and individuals.
Legal Advisor: A legal advisor, recruited by large companies and industries, is responsible for counseling his/her client on various legal issues and decisions.
Public Prosecutor: A public prosecutor is a professional who initiates and carries out criminal procedures in a court of law by attaining and presenting the facts of a case.
Lecturer: After completing post-graduation in BA LLB, aspirants passionate about teaching would become Law lecturers in college.
BA LLB Top Recruiters
The top legal firms that are identified to hire law graduates are recorded below:
• Amarchand & Mangaldas & Suresh A Shroff & Co.
• Khaitan & CO
• J Sagar Associates
• AZB & Partners
• Trilegal
• Luthra & Luthra Law Offices
• Economic Laws Practice
• Desai & Diwanji
• Talwar Thakore & Associates
• S&R Associates

Why Choose SAGE University To Pursue BA LLB Course
There is nothing above the law. Pursuing a BA LLB Course is a wise decision if you have confident communication skills and a love for justice. Moreover, it would be best to choose the best University as it affects the value of your resume and makes you stand out from the crowd.
Here are some important reasons to choose SAGE University for the BA LLB Program.
• Our highly qualified and experienced faculty impart the best academic education with practical exposure by examples.
• Expert lectures are arranged as SAGE Talks and national and international personalities guide our aspirants to become pro lawyers.
• You will get everything, whatever you look like, specialties in the LLB syllabus, student bodies, placement or entrepreneurship support, and alumni network.
• We provide opportunities that match your career goals.
• Our pedagogy keeps our law students interested in the future and exposes them to numerous facets of law.
After considering all these criteria, choose us to upskill your career according to your interests and skills.