MBA in Business Analytics: A Ladder to the Sky-High Echelon
---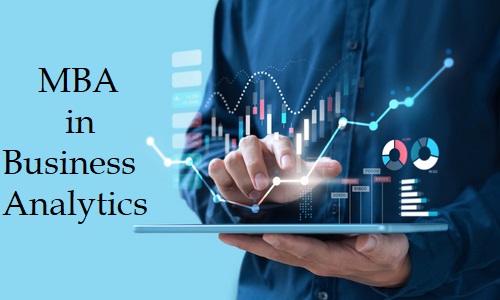 Business Analytics to handle a buffet of duties in order to function effectively and efficiently, develop in all directions, and create a name in the industry. One of the primary reasons for the failure of many enterprises in a country like India, where countless entrepreneurial ventures exist but are never able to thrive in the market, might be a failure in the administration of the firm and its operations, as well as critical analysis of the dangers. According to the numerous marketplaces, where the market wants to alter often, the dynamics and success drivers are rather difficult to understand.
You all must have discerned 11th & 12th standard students rushing and searching for courses for a better career option and miraculous employment. But have you ever discerned an employed person rushing towards the courses with almost the fastest intensity? With the fast-pacing life and high-tech society, mankind has lost its composure and needs everything in reserve. The same goes for the person already employed. To get on to a positioned chair with a lack of composure the employed tend to swiftly get into notions that aid out in this concern. The headmost recommendation is the courses proffered for the composure growth. In the thick of it, one such course proffered is MBA in Business Analytics.
What is MBA in Business Analytics?
An MBA in Business Analytics is the most popular course. It is nothing but an MBA degree with an accumulation in Analytics. With the escalating competition in every field, sitting aback can never be a good option and to stamp out this, cropped up is the course MBA in Business Analytics. The course is unrestricted to any limit and is open for the employed as well as the grad postulants.
Enrolling in the course proffers your managerial skills that need to be bloomed to have the essential managerial skills to advance in leadership roles. The degree will aid you in getting erudition in wider concepts of the topics like marketing, finance, macroeconomics, supervision, and governance. It acts as a ladder towards success for the professional ones and a path for the freshers to reach the heights, and additionally pilots in senior positions for the learners.
Career options after MBA in Business Analytics:
Many institutions offer an MBA in Business Analytics and among all the leading institution that serves this is, Sage University, Bhopal (SUB). The university always yearns to set its students on the heights. The postulants here are also served with placement services, and in the matter of this course provides the career options are as, Marketing Manager, Business Analytic Specialist, Senior Data Scientist, Big Data Analyst, Operation Analyst, Personal Financial Advisor, Management Consultant, Technical Team Leader, etc.
MBA in Business Analytics at Sage University Bhopal
Businesses may use business analytics to find trends and patterns in their data. Companies, for example, may decide exactly what items or benefits to provide in order to improve sales, or what commercials to broadcast in order to promote brand loyalty, by classifying clients by age, geography, and buying history. To transform data into insights and insights into business choices, business analytics involves technical competence, strategic thought, and business acumen. An MBA in business analytics can provide the training needed for success in this rapidly increasing industry for people with this unique combination of abilities.
The individual should also have decision-making abilities and be a leader. The university admits students who have earned a bachelor's degree from a recognized school with a minimum of 50% aggregate. The university yearns to be the rung on which a student steps to achieve their desired position. BA is described as an iterative process of rigorous data investigation from a business or other entity. Organizations use the approach to drive informed decision-making by largely relying on statistical analysis. Business analytics provides firms with insights into their performance, which acts as a corporate asset and provides them with a competitive advantage. Businesses may also use business analytics to optimize and even automate company operations. Amazon, TCS, Reliance, Wipro, ICICI, Infosys, L&T, Aditya Birla, etc. are the top recruiters in the Business Analytics domain. Crop up to grab the bounded seats at the best private university to step up the ladder of reaching the echelons.