Novel Feed Ingredients in Aquaculture
---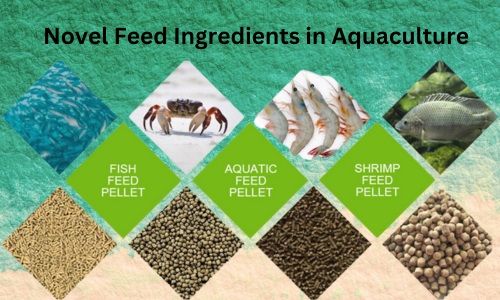 Nowadays, to solve the global problem of food security, aquaculture plays a major role for fulfill the protein demand of the planets people. Capture fisheries are the identical source for the production of fish which helps to manufacture fish meal & fish oil. Generally, fish oil & fish meal are used as essential raw materials for preparing fish feed in the aquaculture feed world. To improve sustainable food production for our rising population, it's a very prime issue to reduce the pressure of human food resources that are utilized in fish and shellfishes diet.
Novel feed ingredients are mainly supposed to be unusual feedstuffs derived from plant or animal origin. Universal, the up gradation of research on the replacement of fish meal in fish diets initiated the new protein or lipid raw materials which are utilized as feedstuffs in aquaculture feed. Plant origins such as different types of pulses, leaves, sunflower meal, corn gluten meal, soyabean, rapeseed meal, canola meal, wheat gluten meal, seaweeds are now familiar as novel feed ingredients. In animal origin, insect ingredients to terrestrial byproducts from poultry, duck & pig are applied as food content for raising fish and shellfish. Besides these novel feed ingredients, it is possible to achieve maximum production from the cultured fish by utilizing microbial feed ingredients.
Lack of accessible feed is one of the crucial constraints for the poor fish farmers to marginal fish farmers of India. Utilizing plant material which is naturally seen & grown in every part of India namely Moringa leaf and Curry leaf helps to solve the problem effortlessly. Before implying of plant origin as a fish feed ingredient, it should need proper treatment because plants carry phytochemicals contained for protection against predators.
Use of terrestrial byproducts including slaughterhouse waste materials to poultry, duck, and pig waste should be treated by sun drying before being applied as fish feed ingredients. The disease is the main constraint of any type of fish & shellfish culture. So, to avoid the disease, the implication of proper feedstuffs to deduction of loss of feed are very significant.
Novel feed ingredients offer an opportunity to overcome the problem of fish feed ingredient cost and availability of raw materials for the manufacture of fish feed. By optimum utilization of novel feed ingredients help to manage sustainable aquaculture as well as deliver nutritional benefits to functions in the specific diet formulation which will be viable for native fish farmers. Simultaneously, the utilization of these novel feed ingredients for the manufacturing fish feed has not a negative effect on the environment.
By. Dr. Rakhi Das
Dept. of Aquaculture
SAGE University Bhopal