Aggression among Today's Youth
---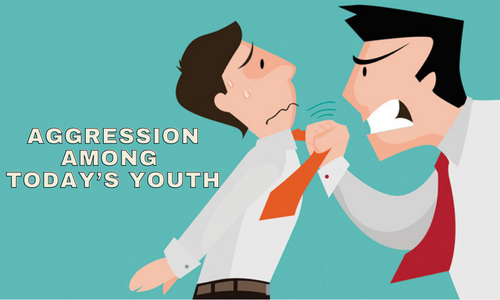 Violence and aggression are the most pressing concerns confronting modern society. Despite widespread education, independence, freedom of thought and speech, freedom from deprivation, fulfilment of basic needs and desires, improvement in socioeconomic conditions and way of life, and improvements in child rearing practices, aggression and violence are on the rise in many countries around the world.
One of the major concern in today's world is the increasing number of aggressive acts, and when we look at the data we can see that the maximum number of such acts has been done by the young population-The Youth. There has been a considerable surge in aberrant conduct, particularly among young people, with examples of school shootings, armed crimes, sexual crimes, and other types of criminal behaviour. One of the reason is the use of smartphones, and the time spent on computer. Because they spend much of their time on smartphones they are exposed to several violent acts. Several studies have found that children who are exposed to violence in the media at an early age are more prone to demonstrate violent behaviour than those who are not. Also, according to some studies youngsters are most likely to be exposed to violence through television. These studies have found that children who watch television for an extended period of time are more likely to exhibit aggressive behaviour and acquire violent tendencies later in life.
Active research on aggression and hostility began in the 1930s, and because these unpleasant emotions impair societal peace and pleasure, psychologists and sociologists have taken a keen interest in studying aggression, its causes, reactions, and effects. A comparative study of many communities and cultures shows that aggression develops in the family and in the society in which one lives, and it varies according to cultural diversity.
In one of the study conducted by Manoj Kumar Sharma and Palaniappan Marimuthu (2014) highlighted the factors of aggression among youth. They concluded several points: aggression was more prevalent in the younger age group. Boys were shown to be more physically and verbally violent than girls, however at higher year levels, girls utilized more indirect violence. A higher percentage of women (95.3% vs. 92.8%) engaged in verbal aggressiveness, whereas males engaged in more severe physical aggression (4.6% vs. 2.0%).
There are several factors responsible for aggression such as a history of abuse, Delinquent peer influences, antisocial personality traits, economic factors, environmental sources of aggression, while research findings reveal that social variables play a significant role in the development of violent behavior, it also arises from the environment.
Overall, the concept of aggression is sophisticated and diverse, having been researched within the frameworks of many theories and methodologies. Experts from biology, history, sociology, and psychology collaborated to define it and provide theories about its origins and causes. In truth, aggressive behaviours might differ based on an individual's age, social and cultural background, education and hobbies, ethical and psychological levels of development, and so on.
Ms. Radhika Sahu
Assistant Professor
Psychology, SOAHASS
SAGE University, Bhopal