Artificial Intelligence and Data Science: The New Possibilities
---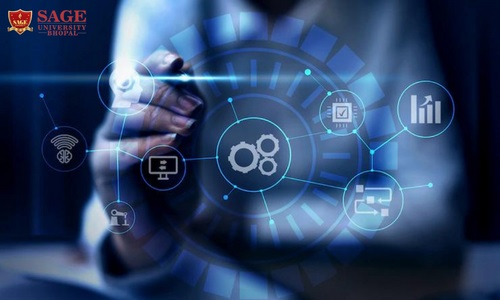 Artificial Intelligence and Data Science is a new field of study that deals with scientific methodologies, processes, and techniques derived from various domains such as statistics, cognitive science, computing and information science, and others to extract knowledge from structured and unstructured data. This knowledge is used to make intelligent judgments in a variety of commercial applications. Artificial intelligence and data science engineering institutions in Bhopal concentrate on data collection, categorization, strategy, analysis, and interpretation. It is a specialised field concerned with the creation of data-driven solutions, data visualisation tools, and big data analysis methodologies. It also integrates machine learning and deep learning model-building principles for tackling a variety of computational and real-world challenges.
Graduates of AI and DS will be able to create and build intelligent business solutions to handle a wide range of industrial challenges. They suggest solutions based on the most recent tools and open-source technology. They can assess the ethical, legal, competent, and social standards of engineering knowledge and practices. These graduates can also demonstrate domain knowledge in data handling, knowledge extraction, mobile, and distributed application development, intelligence web/eCommerce development, database administration, computer hardware, networking, education and training, and decision support systems through the use of AI and Data Science tools and techniques.
The focus of the Artificial Intelligence and Data Science course is Industry 4.0. These are the fields of technological future and they are in a lot of demand these days. With the rise of IoT and Smart Technologies, AI and Data Science themes have found extensive application. Advancements in technology such as IoT and the integration of AI and Big Data have generated a new stream of technology in which data-based knowledge can be leveraged to build new business practices. AI and Data Science are being utilised to address critical business issues such as enhanced trend analysis, generative business intelligence, and smart industrial and manufacturing designs.AI and data science are the current industry trends, and it is a well-paid job. Artificial intelligence and data science are excellent courses for people who want to create a variety of clever business solutions. Big data solutions have altered how company models are designed and run. This research has a significant impact on the manufacturing, e-commerce, banking, finance, transportation, and healthcare industries. You will learn how to develop, construct, and deploy AI and DS-based software solutions to tackle real-world business challenges at SUB & SIRT, one of the leading high-tech artificial intelligence and data science institutes in Central India.
SAGE provides Foundational Data Science training for addressing significant technological challenges like complex trend analysis and generative business intelligence, Comprehensive Artificial Intelligence (AI) training for future innovations, and this professional course will teach you more about digital automation and smart manufacturing. This well-liked academic discipline is said to be the cornerstone of modern technology. You will be able to pursue a rewarding career as an AI Developer, Machine Learning Engineer, Big Data and Hadoop Developer, Robotics Programmer, ML Researcher, Computer Scientist, and other roles after finishing the AI & ML course.
Industrial Training Programs are an important part of this course because they allow students to be more innovative in their approach. We have instilled a robust Holistic Research Framework in our curriculum to enhance student learning in order to get their technological acumen in line with industry standards, and in this course, we provide a Skill Oriented Learning System that accentuates students' fundamentals and professional grit. After completing this course, you will be able to pursue a lucrative career as a Data Scientist, Data Analyst, System Design Engineer, IoT Developer, Big Data Manager, Business Intelligence Manager, and so on.