Pankaj Advani Crowned SAGE Billiards National Championship Again!
---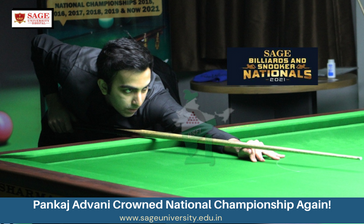 Defending NATIONAL BILLIARDS CHAMPION & the winner of 24 World titles in Cue Sports, Padam Bhushan, Pankaj Advani, the Golden boy of Cue Sports, defensed his national billiards title most magnificently, like a true champion, that he is even as the Seniors events of the Sage National billiards & Snooker championships concluded at the Royal Sage Auditorium here at the Sage University on Monday evening.
Champion he was, Champion he stays!
Pankaj Advani, who plays for the Petroleum Sports Promotion Board, defeated his PSPB mate and best friend, Dhruv Sitwala, by 5-2 games in the best of nine games final match which was a splendid exhibition of high class of Billiards play by both fine exponents of the three balls sport.
It was actually Dhruv Sitwala who set the tenor of the game with useful breaks of 65 & 42 in the first game, which Pankaj Advani quickly responded with breaks of 56 & 46 in the next game to restore parity at 1-1.
Sitwala was displaying excellent in-offs, pots, and cannons, again forged ahead by pocketing the third game with a sizeable break of 84.
He was on course to even wrest the fourth game when he compiled a wonderful effort of 101. But a costly lapse at this juncture gave Pankaj a possible chance.
Composing himself in a great rally, the maestro chalked up a classy break of 127 to snatch the game and draw level once again at 2-2.
Suddenly entering a zone of intense concentration, which is a rare gift which he has, Pankaj struck a purple patch cajoling and nursing the balls at the top of the table to craft identical unfinished breaks of 150 in the fifth and sixth games to run up a crucial 4-2 games lead.
Not giving up, Sitwala put up an amazing show of skill, patience, and temperament to strike a break of 134 but sadly, when in the prime position, he could not hold the balls together to give another chance to Pankaj after a sequence of safety exchanges.
Playing with an exquisite touch in perfect rhythm and conceptualization, Pankaj never looked back to compile an unfinished 148 break to take the game, match, and title. Earlier in the morning session, in the final of the Sub- Juniors boys section of the nationals, in a match between two talented cueists from Maharashtra, the young confident, and handsome Mumbai boy, Sumehr Mago bested his city mate, Shayan Razmi by 418-278 points in a ninety minutes tie.
Sumehr, who has an amicable manner while playing, an infectious smile even as he is stroking the balls to his beck and command was In top form as he notched up a break of 100 and a vital break of 69 within the first 40 minutes to put considerable pressure on his rival Shayan.
Shayan, on his part, did try his best to challenge Sumehr but could not match the skill and tactical play of his senior rival.
In the next 50 minutes, what ensued was, at best, a scrappy affair.
Shayan managed a break of 50 which was not enough on this day, and it came too late. Sumehr did not loosen the stranglehold which he had got over Shayan, eventually winning with consummate ease to become the National Sub- Junior billiards champion.In the positional matches for third and fourth places, Brijesh Damani of PSPB BEAT Balachander Bhaskar of Karnataka by 89-150, 151-98, 152-06 & 151-101 points to earn the bronze medal. Bhaskar finished in fourth place.
In the sub-Juniors boys event, Dhruv Patel of Gujarat earned the third place, who got the better of Ranveer Duggal of Chandigarh by 260-165 points. Ranveer finished fourth.
Pankaj Said: "Dhruv is a very close friend of mine, we share all the sneak peaks of our lives. To be honest, It is never easy to play against your best friend in the finals of a major event like this and he also played amazingly. After the snooker failures, today's victory gives me a sense of redemption! The National Billiards Championship is surely a tough tournament to crack. I'm thrilled and grateful to lift my 11th Senior Billiards title, it is also my 35th title overall. So, I am more than happy and feeling deeply satisfied"
The Chief Guest of the evening's prizes were distributed by the Vice Chancellor of the Sage University, Shri V K Jain, in the presence of the Secretary General of the Billiards & Snooker Federation Of India, Mr. Sunil Bajaj, and the Vice President, BSFI, Mr. Sunil Morajkar.
From tomorrow the Juniors event of the Sage National Billiards& Snooker Commencing is organized by the Madhya Pradesh Billiards & Snooker Association under the auspices of the BSFI with the conjunction of the Madhya Pradesh Ministry of Sports & Youth affairs. The 37 days Nationals has been sponsored by the SAGE UNIVERSITY.