Implications of New Education Policy at SAGE University Bhopal
---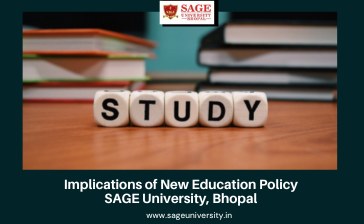 This article is divided into two parts. The first part describes the significant provisions made in the context of higher education in the New Education Policy (NEP), 2020, adopted by the Government of India. In the second part, the provisions made for higher education in the NEP have been adopted in the SAGE University, it has been described.
I
A holistic and multidisciplinary education, as described magnificently in India's past, is needed for India's education to lead the country into the 21st century and the fourth industrial revolution. Students of arts, humanities, and social science will aim to learn more science, and all will make an effort to incorporate more vocational subjects and soft skills. Even engineering institutions, such as IITs, will move towards more holistic and multidisciplinary education with more arts, humanities, and social sciences.
Imaginative and flexible curricular structures will enable creative combinations of disciplines for study. They would offer multiple entries and exit points, thus, removing currently prevalent rigid boundaries and creating new possibilities for life-long learning. Graduate-level, Master's, and Doctoral education in large multidisciplinary universities, while providing rigorous research-based specialization, would also offer opportunities for interdisciplinary work, including in academia, government, and industry.
Large multidisciplinary universities and colleges will facilitate the move towards high-quality holistic and multidisciplinary education. Flexibility in curriculum and novel and engaging course options will be on offer to students, in addition to rigorous specialization in a subject(s). This will be encouraged by increased faculty and institutional autonomy in setting curricula. Pedagogy will have an increased emphasis on communication, discussion, debate, research, and cross-disciplinary and interdisciplinary thinking opportunities.
Departments in Languages, Literature, Music, Philosophy, Indology, Art, Dance, Theatre, Education, Mathematics, Statistics, Pure and Applied Sciences, Social Sciences like Sociology, Economics, Sports, and other such subjects needed for a multidisciplinary, stimulating Indian education and environment will be established and strengthened at all HEIs. Credits will be given in all Bachelor's Degree programs for these subjects if done from such departments or through ODL mode when they are not offered in-class at the HEI.
Towards the attainment of such a holistic and multidisciplinary education, the flexible and innovative curricula of all HEIs shall include credit-based courses and projects in the areas of community engagement and service, environmental education, and value-based education.
Environment education will consist of climate change, pollution, waste management, sanitation, conservation of biological diversity, management of biological resources and biodiversity, forest and wildlife conservation, and sustainable development. Value-based education will include the development of humanistic, ethical, constitutional, and universal human values of truth, righteous conduct, peace, love, non-violence, scientific temper, citizenship values, and also life-skills; lessons in service and participation in community service programs will be considered an integral part of holistic education. As the world is becoming increasingly interconnected, Global Citizenship Education, a response to contemporary global challenges, will empower learners to become aware of and understand global issues and become active promoters of more peaceful, tolerant, inclusive, secure, and sustainable societies. Finally, as part of holistic education, students at all HEIs will be provided with opportunities for internships with local industry, businesses, artists, craftspersons, etc., as well as research internships with faculty and researchers at their own or other HEIs/research institutions, so that students may actively engage with the practical side of their learning and, as a by-product, further improve their employability (Government of India: 2020).
II
In the context of the New Education Policy 2020, which is described above, if SAGE University is seen in that perspective, it is trying to fulfill all the criteria mentioned in the policy right from its first year. On the one hand, while the university has adopted CBCS, on the other hand, in order to encourage research, Degree courses, both Bachelor's and Master's, have made Project-Based Learning (PBL) a part of the curriculum since the first year. In addition, Green Credit and Yoga have been made an integral part of the curriculum so far as the personality development of the students is concerned.
During the study in university, it was also taken care for the overall development of the students, which has been given the maximum emphasis in the new education policy. In this context, various types of clubs are being run by the students in the university to participate in co-curricular activities of the students along with studies, which help in their overall development.
And finally, when the student completes his education from the university and will go to the society for their livelihood, then s/he is being made according to the contemporary conditions to set up his/her business or a job. In this context, efforts are being made to make the students develop from the beginning of their student life and develop their skills according to the market. The university gives this effort to the students by signing MoU with various institutions. Apart from this, the university is constantly working in this direction to provide this opportunity to its students by signing MoUs with the most modern institutions.
Reference:
Government of India (2020): National Education Policy 2020, New Delhi: Ministry of Human Resource Development.
Dr. Manish Mishra
HOD
School of Arts, Humanities and Social Science
SAGE University, Bhopal