SAGE University ties up with Harvard Business School to deliver a World-Class Learning Experience
In times of tough competition when students are struggling to get themselves enrolled in colleges and are trying to get the desired job, there are multiple struggles that come in their way. One key area of concern is choosing the right course. One university that is working to help students make informed decisions in this competitive world is SAGE University. With a slew of courses across various streams, it has turned out to be one of the most preferred destinations for higher studies for students across India. The University has a well laid-out systematic process of meeting student's career aspirations and corporate expectations. To add more cutting edge features to its academic portfolio, The SAGE has recently tied up with Harvard Business School to offer its online courses for Students, alumni and stakeholders of Sage University- Indore and Bhopal, Sagar Group of Institutions (SIRT, SIRTS, SIRTE, SIRTP, SIRTSP) Sage International School.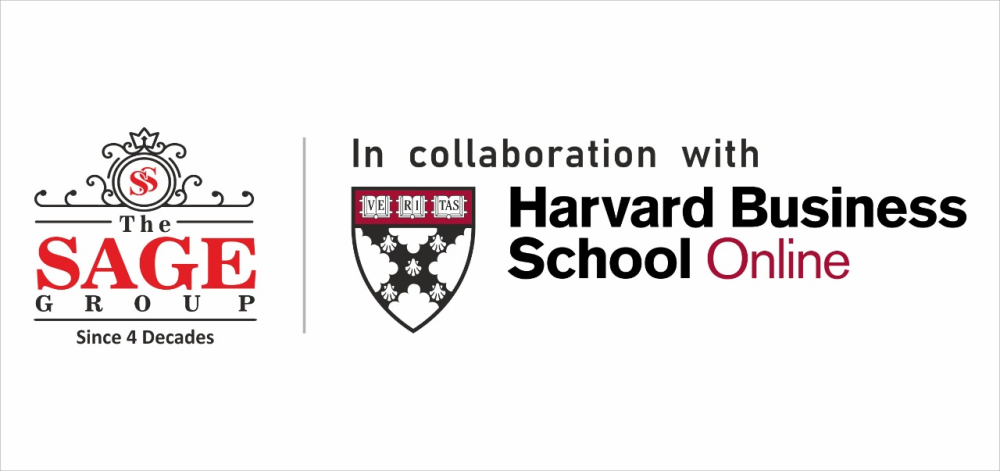 Edge-of-your-seat online learning
Ninety four percent of past participants said Harvard Business School Online is more impactful than other online business programs. The SAGE in collaboration with Harvard Business School Online endeavors to provide a new dimension to the career of their students, alumni, and stakeholders. HBS Online's certificate and credential programs are offered via an innovative online platform and are designed to bring the Harvard Business School classroom to the learners, putting them at the center of the learning experience. The courses are nothing like the typical 'sit-back-and-listen' lectures, but they help students engage in new activities every three to five minutes. Each element is designed to keep the learners interested, involved, and on the edge of their seats.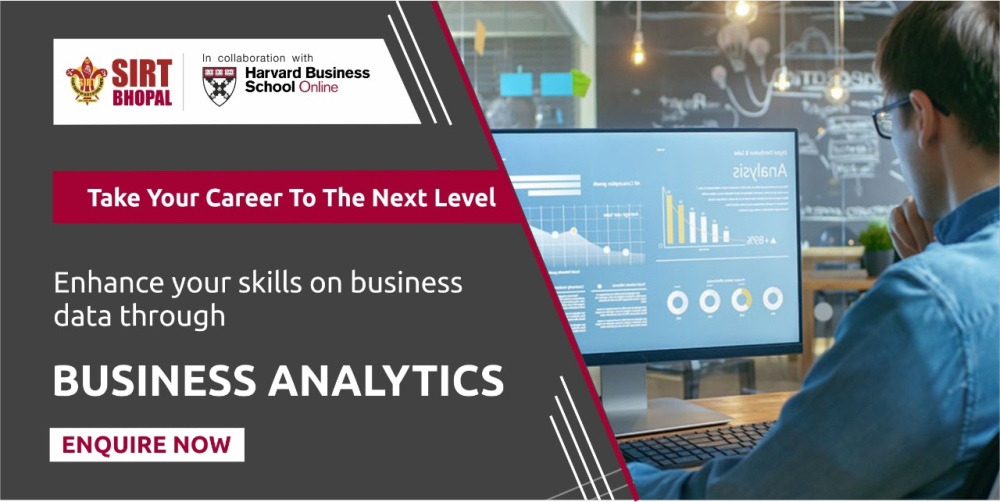 What Sets HBS Online Apart:
HBS Online doesn't just restrict the students to textbooks as it goes beyond theoretical knowledge. Lessons are brought to life through real-world cases, putting the learners in the shoes of business leaders. Hear firsthand the challenges they faced, and wrestle with the same issues and imperfect information. As they discuss and debate solutions with their peers, vital business concepts are learned to be applied to their own careers. Engaging with peers makes HBS Online further unique. Learners exchange ideas, offer input, and seek out viewpoints from a community of learners gathered from around the globe. In the process, they learn from each other's experiences and perspectives and leave the program with a broader outlook on the world. In this platform, pulsating dots on a world map showing where the peers are logged in, while a feed to the left updates in real-time, displaying their activity, including any feedback, exchange of ideas, or course discussions.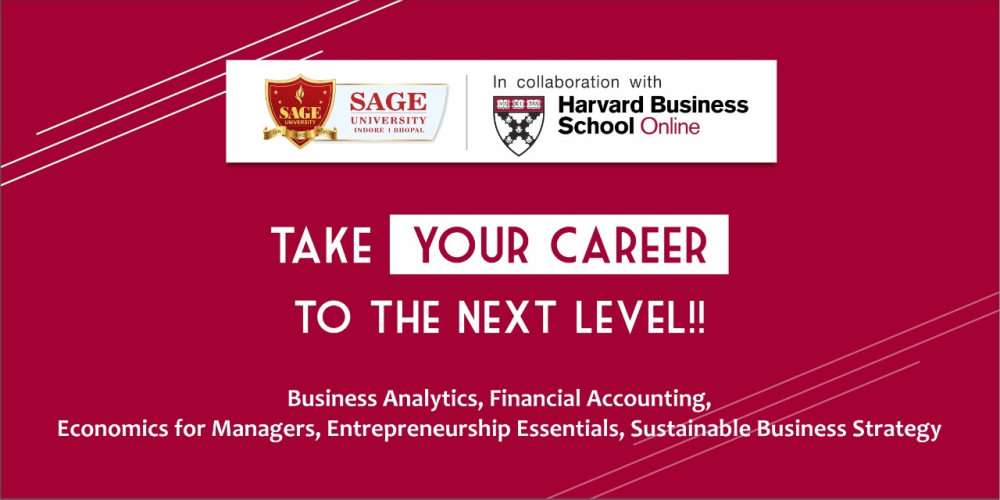 Courses that will take your career to the next level
There are 13 courses offered by SAGE in collaboration with HBS Online. The courses include Credential of Readiness (CORe), Business Analytics, Disruptive Strategy, Economics for Managers, Entrepreneurship Essentials, Financial Accounting, Global Business, Leadership Principles, Leading with Finance, Management Essentials, Negotiation Mastery, and Sustainable Business Strategy.
Building careers in this competitive world
SAGE University in collaboration with Harvard Business School Online is taking education a notch higher by providing students with real-world learning. Bridging the gap between academics and the corporate world has been the main priority for SAGE University that will help their graduates pursue a vibrant and successful career.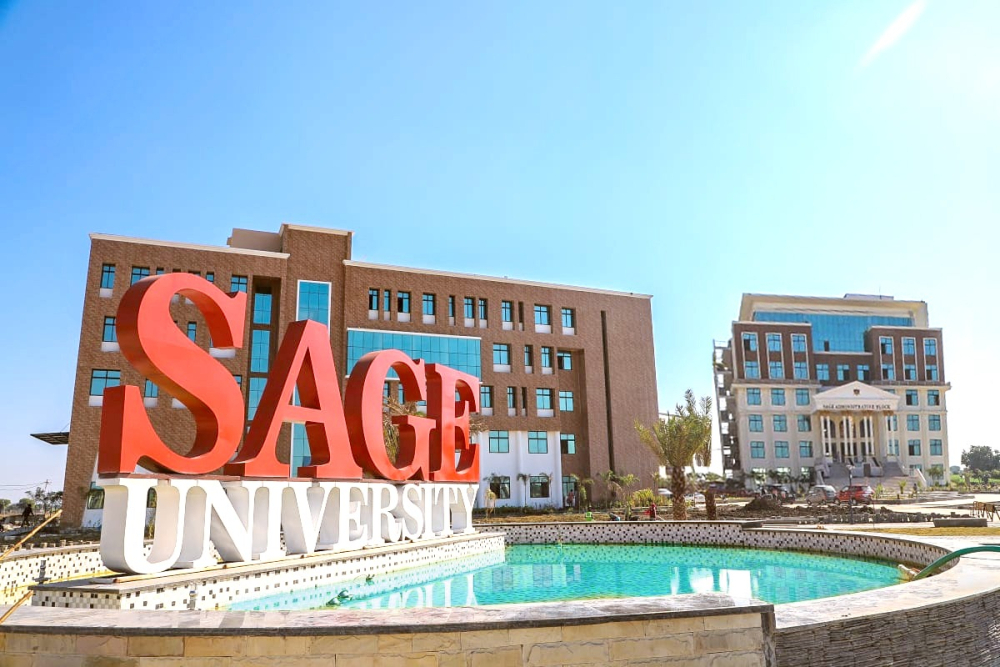 Er. Sanjeev Agrawal, Chancellor SAGE University Bhopal & Indore and CMD of The SAGE, who is an Educationist and an excellent motivator informed that Students Alumni and Stakeholders can opt for various courses from HBS Online at a privileged price because of this collaboration. This alliance would be governed by the 'Sage Centre of Excellence" wing, an initiative working with a long-term vision on empowering youth entrepreneurial dreams and preparing future leaders for the country.
Ms. Sakshi Agrawal the young and dynamic Executive Director of The SAGE informed that The SAGE is working rigorously to provide the best-in-class educational and academic support to create a modern educational system and promote innovations to make India "'a Vishwa Guru and Atma-nirbhar".
For more details over enrollments in HBS Online Program SAGEians can log in on www.sageuniversity.edu.in